ABOUT THE WELLNESS CENTRE
Situated in Vaniyambadi, a town in the Tirupattur district of Tamil Nadu, it is widely known for the medical cure and healing therapies which it has been providing for many years. Aided by the chief physician and director of the foundation, they have successfully discovered and implemented the usage of herbal drugs for curing various kidney ailments. The Wellness Centre provides many facilities with its 100 beds to ensure comfortable treatment. The Medicinal Herbal Garden has been created in the Wellness Centre with 2 lakh Bamboo trees, 122 varieties of Holy trees of Hindu, Jain and Buddha temples besides 70,000 medicinal plants maintained in 50 acres of land.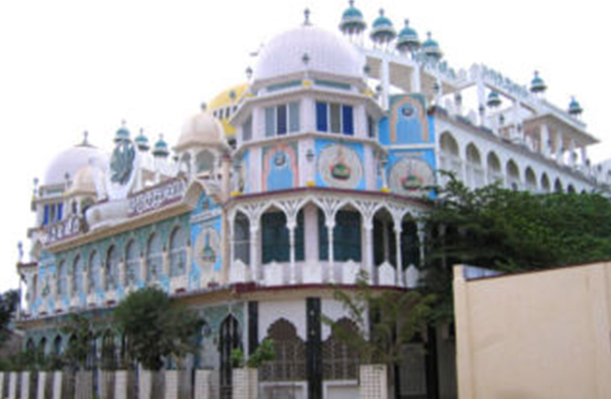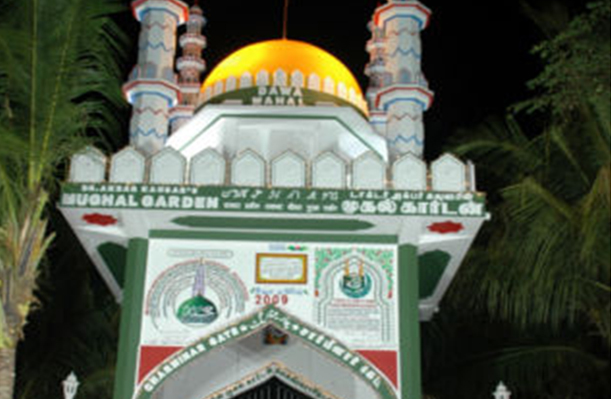 The Wellness Centre excels in various spheres of healing therapies, including, treatment through Prophet's medical theory, Arabian herbal treatment, Unani treatment, Chinese Acupuncture and Homeopathy, among many others.
Treatments available at the Wellness Centre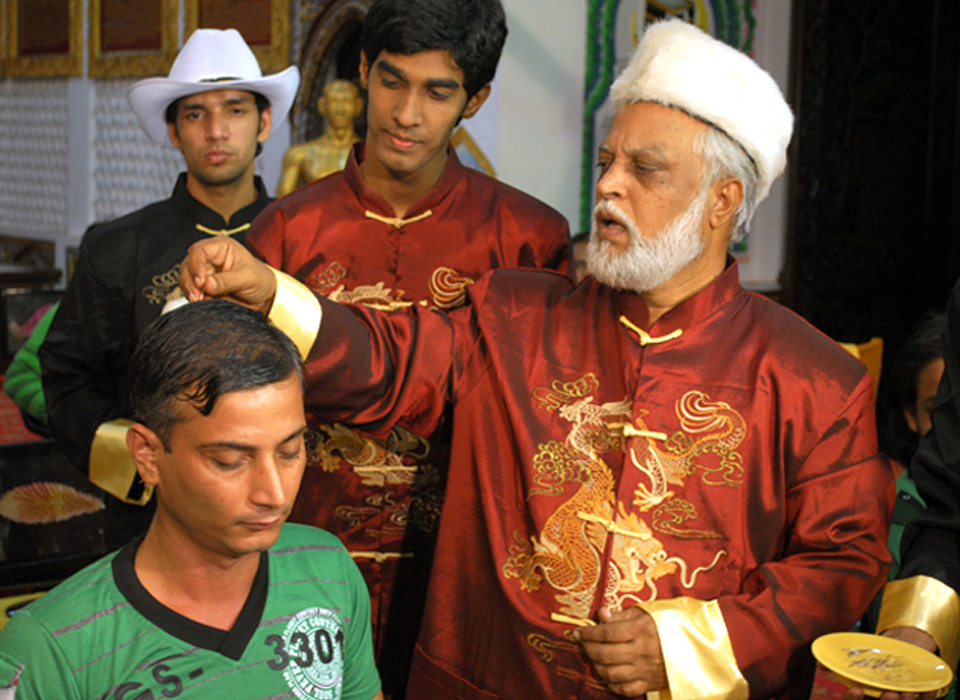 Unani Therapy
Unani Medicine has gained popularity in the present era and most people are resorting to it sans inhibitions, as it provides cure without any side effects and also offers a comprehensive healing experience in the present era.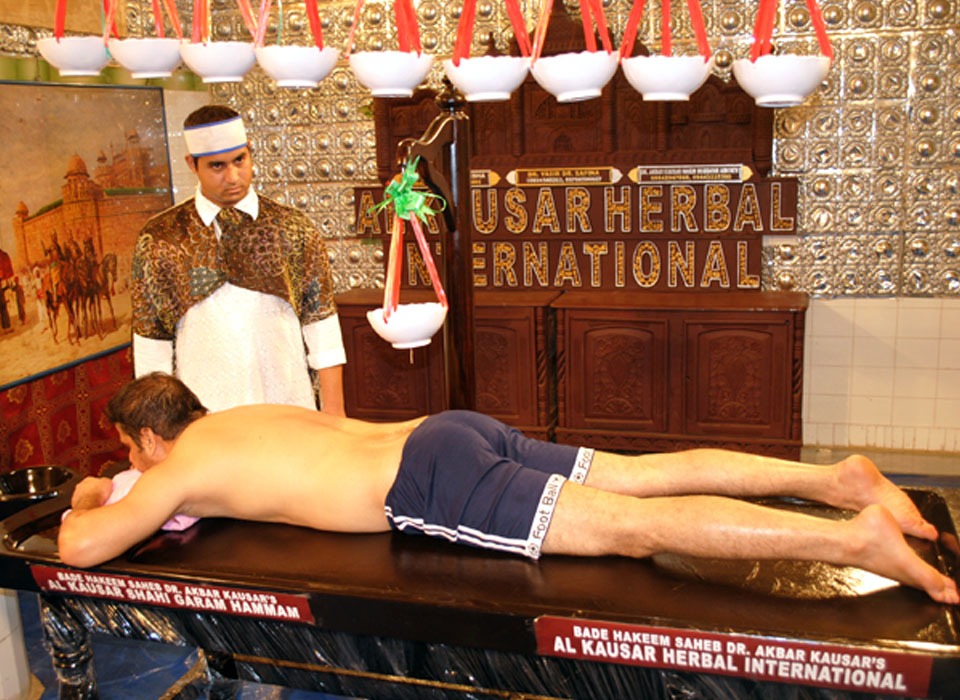 Douching Therapy
Douche usually refers to vaginal irrigation, the rinsing of the vagina, but it can also refer to the rinsing of any body cavity. A douche bag is a piece of equipment for douching—a bag for holding the fluid used in douching.
Hijamah (Cupping Therapy)
Cupping Therapy has been derived from the ancient Chinese tradition and has been used to cure many ailments, without any corresponding side effects & aims at forming vacuum with the aid of glass or plastic cups.
Hammam (Bukhari Therapy)
The Turkish Bath or the Hamam-e-Bukhari, has derived its based components from ancient Greek and Roman bathing practices. It provides cure for many diseases and also soothes and rejuvenates the body.
Bed Pillow Therapy
Unani Medicine has gained popularity in the present era and most people are resorting to it sans inhibitions, as it provides cure without any side effects and also soothes and rejuvenates the body.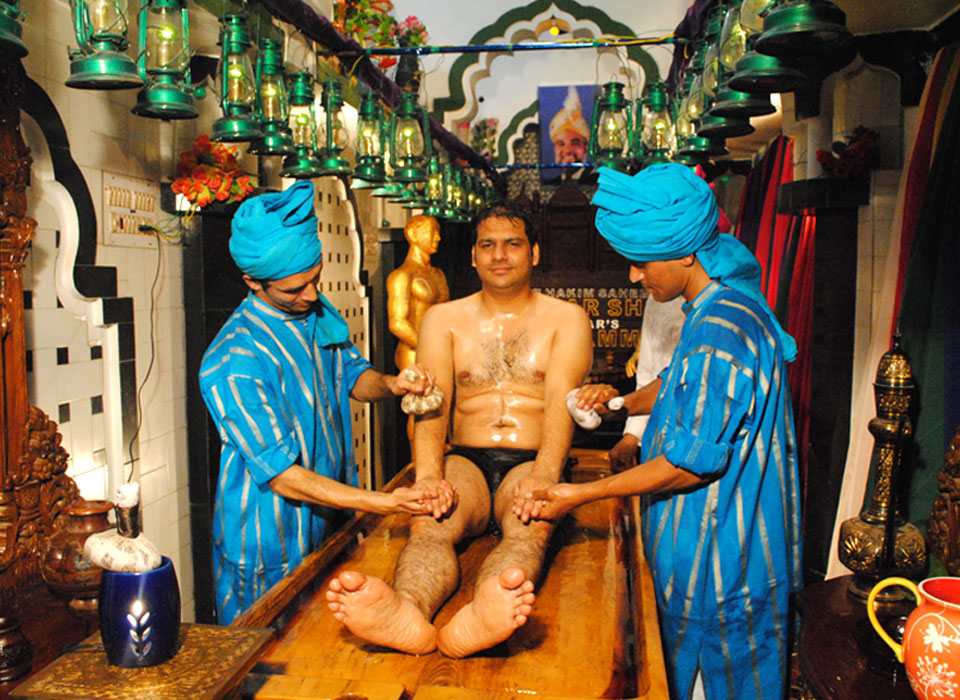 Takmeed  (Fomentation Therapy)
Fomentation necessarily follows oleation. Induced by heat from different sources it brings sweat on skin through hair follicles by opening pores of the skin, used by all people.
Dalk (Oil Massage Therapy)
Oil Massage Therapy is the treatment or prevention of disease by use of essential oils. Other stated uses include pain and anxiety reduction, enhancement of energy and short-term memory, relaxation.
Zimad – Laip (Past Therapy)
One dosage form of Unani system of medicine is named as Zimad in which paste is formed by mixing powder in oil, water, herbal extract. Zimad is prepared just before application and used in many disease conditions as resolving, styptic, astringent, and antiseptic. 
Reikhi Therapy
Reiki is a form of alternative medicine which can also be conceived as a spiritual practice, which has been acquired from the Japanese tradition, also known as palm healing in the form of 'qi' or the life energy.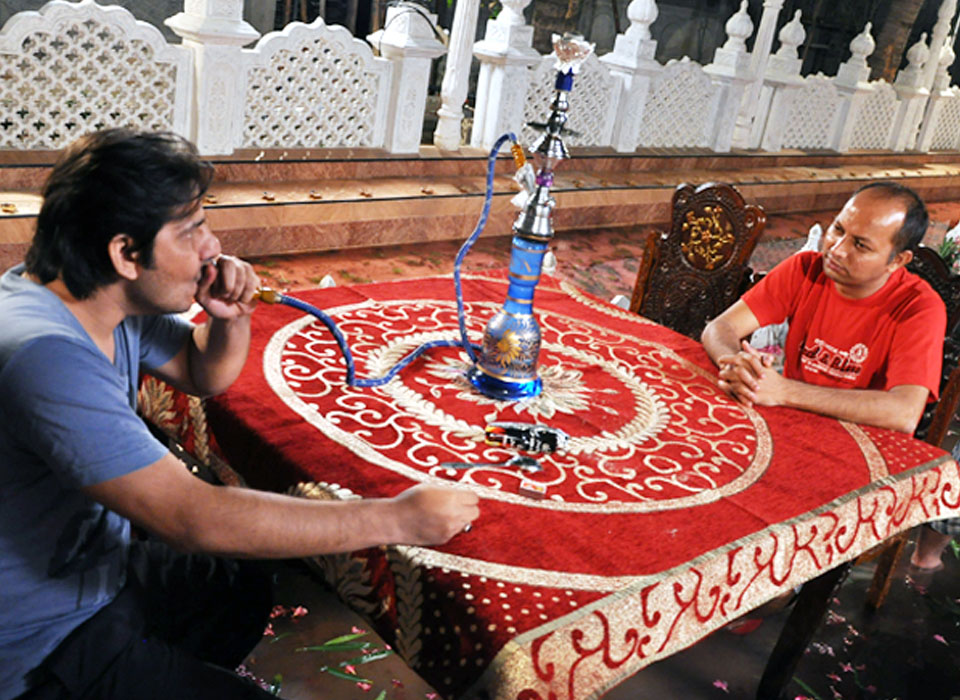 Smoke Therapy
Smoking Therapy (colloquially quitting smoking) is the process of discontinuing tobacco smoking. Tobacco contains nicotine, which is addictive, making the process of quitting often very prolonged.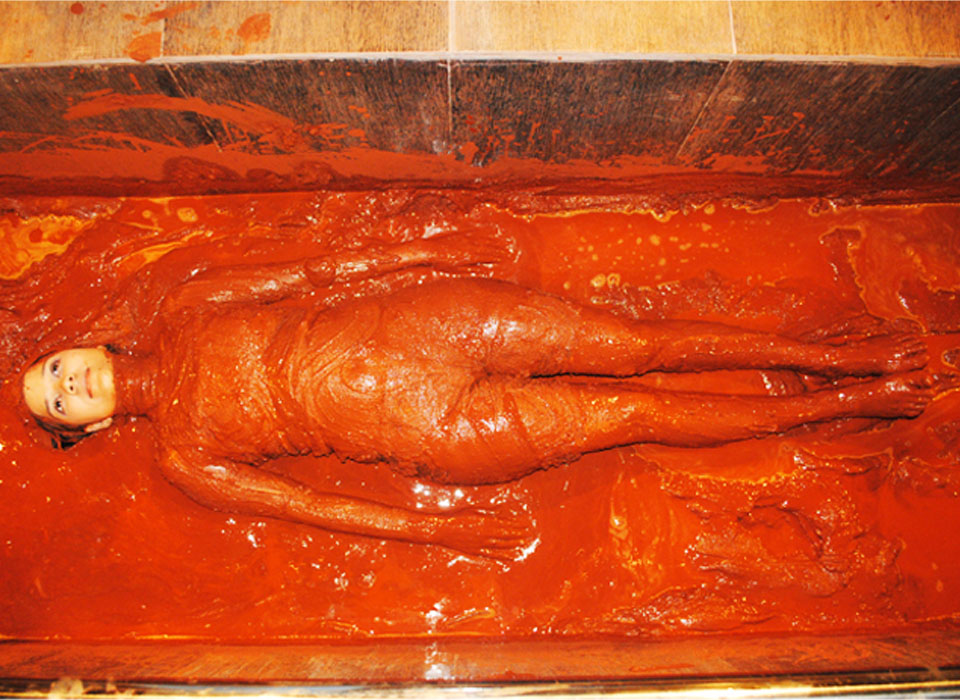 Mud Therapy
The Mud Therapy is an ancient method of healing and rejuvenating the body as well as detoxification. It takes the use of clay or mud for healing and therapeutic purposes. The mud is taken approximately 4 inches below the ground. It involves the application of minerals rich mud over the body. It successfully treats diseases like Psoriasis, Urticaria, Leucoderma and other skin allergy conditions. The duration of the therapy in between 45 to 60 minutes.
Water Therapy
Water therapy or Hydrotherapy, aims at providing cure for pain and illness, by convenient and safe practices. Hydrotherapy uses the body's reaction to hot and cold stimuli, to prolonged application of heat, to pressure exerted by the water, and to the sensation it gives. It stimulates the immune system, influencing the production of hormones of stress, promoting the flow of blood, invigorating digestion, and lessening pain sensitivity.
Nearest Airport: Bengaluru International Airport is 180 km away from the Wellness Centre. Approx. travelling time from would be about 3 hours 20 minutes. Nearest Railway – Vaniyambadi Railway Station which is 2.6 km away. Approx. travelling time is 8 minutes.
The best time to take a tour of Vaniyambadi is November through March when the weather is at its best.
Vaniyambadi is surrounded by lovely hills with many a scenic hill station positioned on them, green farmlands crisscrossed by numerous water channels and a sleepy little town amidst it all. the Sundara Varadaraja Perumal and Athitheeswarar temples are the main draws of this town. The town also has a number of mosques built in the medieval as well as modern Islamic architectural styles. The dargah of Janab Masthan Ali Aulia Saheb draws devotees from all faiths, while the Avanghali temple nearby proclaims this town's great record in harmonious co-existence of different religions. 
The stay can be arranged at Yelagiri, a hill station set amidst a quarter of mountains, that lies within 45 minutes drive from the Wellness Centre. A pleasant climate and rich, local tribal culture are huge attractions there. The unique structure of tribal houses and the locals' small-scale industries, such as honey gathering and weaving, attract quite a few tourists to this hill station.