Packages Tailored to Every Need
Wellness Simplified: The Wellness Centre provides world class medical solutions in Hijamah (Cupping), Dermatology and Cosmetology, Pain Management and Weight Management.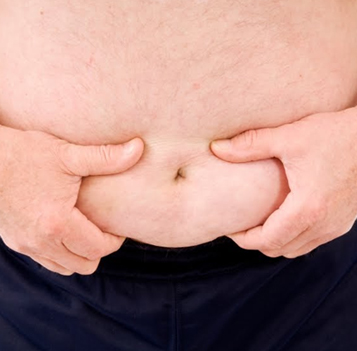 Weight Management by Unani (15 days)
Unani system offers preventive measures as well as curative measures through Ilaj Bil Ghaza (Dietotherapy), Hijamah (Cupping), Dalak with Riyazat (Exercise), Hammam (Steam Bath) and Unani Herbal Supplements (Ilaj Bil Dawa). Besides there therapies you will be advised how to adopt a healthy lifestyle (Asbab Sitta Zarooriya).
Weight Management by Ilaj Bil Yad (Reconstructive Surgery)
Surgery (Ilaj Bil Yad) is only considered when other weight management options have not been successful.
Hijamah bil Shart (Wet Cupping)
One of the oldest and most preserved forms of Hijamah (cupping), Hijama bil Shart (wet cupping) is what you will need for full body detox and de-stress. The perks of getting Wet Cupping done are internal cleansing, body pain relaxation, internal based problems cured, and more. Wet cupping helps majorly in the flow of blood and keeps all the cells intact thereby letting the immune system stay fully guarded. Prevention on cancer is also possible through Wet Cupping. This therapy brings out toxins which are secreted on the upper layer of skins out of our body and also increases the secretion of pure blood and helps to circulate to all parts of our body and also gives energy to our body and refreshes our brain and through this the whole of our circulatory system gets refreshed.
Benefits of Wet Cupping are: makes the skin cleaner and brighter, reduces acne, redness, and inflammation on the face, improves skin appearance reducing wrinkles and scars, improves blood circulation and metabolism, removes toxins from the body, increases immunity and in joint pains, frozen shoulder, etc.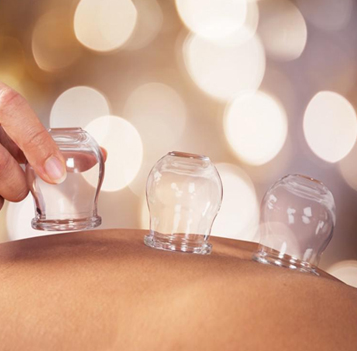 Hijamah bila Shart (Dry Cupping)
Dry Cupping is an ancient form of alternative medicine in which a therapist puts special cups or glass on the painful area of the body to create suction and stimulate blood circulation to the skin's surface. At the same time, connective tissue is loosened which activates the body's healing process. Further, it involves no apparent scratches on the skin, or extraction of blood. The treatment may take anywhere from ten to twenty minutes, depending on the severity of the individual's condition.
Dry Cupping Therapy is one of the best pain-free and state-of-the-art treatments to cure and avert illness and to increase immunity. The choices we make today are paramount in determining our risk of disease in the future. Combination of regular Riyazat (exercise), Ilaj Bil Ghiza (healthy diet) and getting Hijamah bila Shart (Dry Cupping) regularly can facilitate in rejuvenating the body and preventing the occurrence of health problems in future.
Benefits of Dry Cupping are: painful, tight muscles are loosened during this therapy, then helping to promote relaxation and healing of muscle fibers. Brings the body's blood closer to the skin's surface, thus increasing blood circulation promptly. Those who are suffering from anxiety or depression feel much more relaxed and positive after this treatment. It helps to move lymph fluid throughout the body more efficiently, thus strengthening and activating the immune system. Also helps to soften the tightened tissues and make them more flexible and give relief from emotional and physical tension.
Hijamah bil Naar (Fire Cupping)
Heating the inside of the cup with fire, heat, and steam, Fire Cupping is proven to be remedial for muscle cramps, sprain, cervical pain, and more. 
Benefits of Fire Cupping are: promotes deep sleep, improves blood circulation, cures gastric problems, disc problems and relaxes the mind and brain.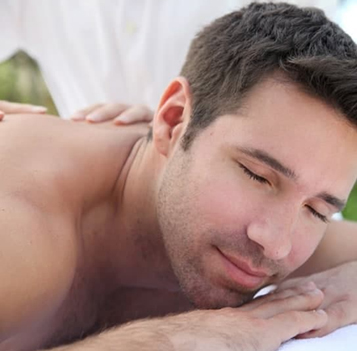 Dalk (Therapeutic Massage)
Soft massage promotes sleep and has a relaxant effect. Dry and hard massage is de-obstruent and increases the blood supply while the massage with oil relaxes the muscles and softens the skin.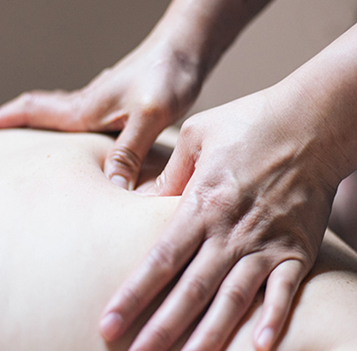 Dalk (Full Body Massage)
Full body massage promotes sleep and has a relaxant effect. Dry and hard massage is de-obstruent and increases the blood supply while the massage with oil relaxes the muscles and softens the skin. Full body massage eliminates long-lasting pain of injuries and affects a lot on the nervous system and helps it in getting relaxed.
Hammam (Turkish Bath)
This is required for resolving the waste matters and induces sweating. It provides warmth to the body. It increases appetite and improves fat metabolism.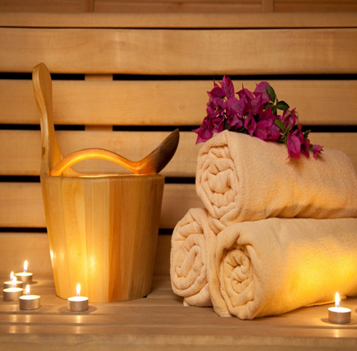 Dalk & Hammam
Benefits of both Full body massage and Steam Bath.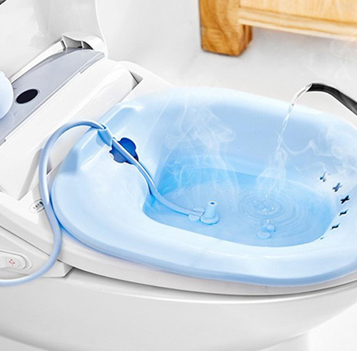 Abzan (Sitz Bath)
A sitz bath is a soothing cleanse of the anogenital area. It is safe and can be used by everyone from children to adults to elders. However, it is widely recommended to people with complaints of discomfort, itch or pain of the vagina or anal area.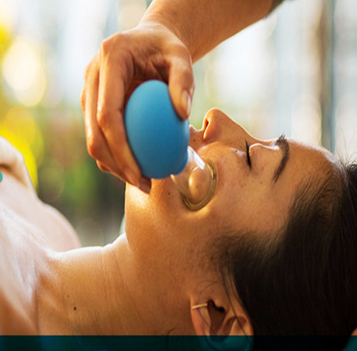 Facial Hijamah
Hijamah for face (Facial Hijamah) is being widely used to heal and repair issues such as acne prone skin, dark circles, puffiness, scars and marks on face, wrinkles, uneven skin tone or pigmentation and for tightening skin and to improve the tone of chin and neck.
Saba Alshier (Hair SPA Unani)
Different nutritious oils are used to massage the scalp and enrich the scalp with nutrients to make hair healthy, strong, and soft during a hair spa. Since a part of a hair spa involves massaging, it is a method used to improve blood circulation in your scalp to nourish the roots of your hair.
Unani Facial
Facial makes you comfort as it is a good 45 minutes uninterrupted pampering for yourself in the busy routines. – Also, facial helps your eyes rejuvenate too. – It not only de-stresses you but also makes your skin glow from the impact of weather on you.
Nutool plus Dalk
It is an ancient healing technique that is used to cure eye and neurological issues, memory loss, certain skin problems, gray hair, sleeping problems, and some types of allergies. Liquids, such as warm oil, milk, buttermilk, or even just water, depending on the issue needing treatment, are poured over the patient's forehead.
Pashoya (Footbath)
A footbath is a good detox treatment for the following medical conditions: Migraine: Combining foot soak with foot massage helps to reduce stress and tensed muscles which also has an indirect effect on the head area, soothing migraine, and headaches; Neuralgia: Damaged or irritated nerves are brought about by aging, stress, infection, and disease. Heated foot baths can help reduce the signs and symptoms of neuralgia; Heartburn: A foot soak can address digestive health problems like heartburn; Flu: A foot bath can also treat respiratory problems like flu as well as asthma and pneumonia; Ovarian and Menstrual Cramps: A footbath can reduce the signs and symptoms of menstrual cramps and gynecological problems.
Dastoya (Handbath)
This helps you avoid irritation, inflammation and sores caused by dead skin cell accumulation. The bacterial and fungal load from contact in your environment can also accumulate, increasing the risk of infection.
Diamond Microdermabrasion
Diamond tip microdermabrasion is a minimally invasive treatment that professionally exfoliates the skin by removing dead, uneven layers of skin. This method of microdermabrasion uses a diamond tipped instrument to lightly abrade the top layers of skin and bring new, radiant skin to the surface.
Body Polishing
It acts as a cleanser that removes all the dirt from your skin. Also, it uses natural ingredients and essential oils that have therapeutic benefits on your skin, body, and mind.
Cellulite Reduction
Cellulite is a very common, harmless skin condition that causes lumpy, dimpled flesh on the thighs, hips, buttocks and abdomen. The condition is most prevalent in women.
Nearest Airport: Indira Gandhi International Airport is 140 km away from the Wellness Centre. Approx. travelling time from Delhi to Aligarh would be would be about 3 hours. Nearest Railway Station: Aligarh Junction Railway Station which is 4.5 km away. Approx. travelling time would be 15 minutes.
The best time to take a tour to Aligarh is from October to February.

Major tourist attractions of Aligarh are Aligarh Fort, Sir Syed Academy Museum, Khereshwar Temple, Jama Masjid, Maulana Azad Library, and many more.